Active Intelligence Demonstrates Broad Spectrum
Real-time Detection at ISC West 2023
ASTRA™ Video Anomaly Detection Provides True Gateway to Proactive Surveillance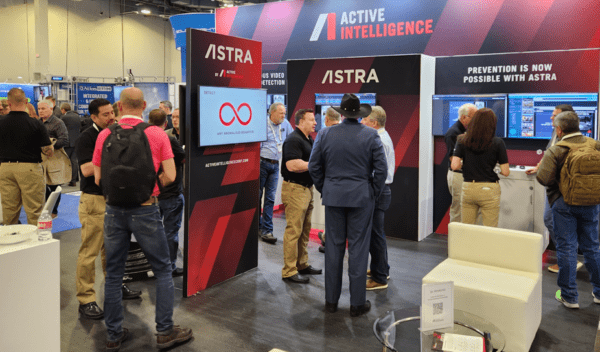 Port Charlotte, FL (April 13, 2023) – Active Intelligence, pioneer of anomaly detection software for physical security and business intelligence applications, experienced high levels of interest and excitement over the company's ASTRA™ Video Anomaly Detection software at ISC West 2023. After previewing the new video analytics solution in Q4 2022 at ISC East, ASTRA's hard launch at ISC West reaffirmed Active Intelligence's anticipated widespread acceptance of a new anomaly detection solution for proactive video security and business intelligence applications. Showcased through integrations with the industry's leading video management system (VMS) platforms, Active Intelligence demonstrated how ASTRA delivers real-time anomaly detection for a virtually unlimited number of security, safety, compliance, and commercial/industrial applications across the enterprise.
"We went to ISC West with the vision of demonstrating how ASTRA truly transforms existing video systems from reactive to proactive solutions with extreme accuracy and cost-efficiency," said Ken LaMarca, CEO, Active Intelligence. "We knew we were on track when channel partners and users kept coming back to the booth over the three days to take another look. Being able to show real world examples of ASTRA in action on leading VMS solutions provided the proof of performance that many industry professionals have been waiting to materialize."
ASTRA Video Anomaly Detection eliminates the need for pre-configured rules that limit the utility of conventional video analytics to detect potential threats, liabilities, and abnormal activities within a scene. Instead, ASTRA provides the unparalleled ability to identify when anything is amiss in a scene, whether it be an act of violence, an individual in distress, or a product falling off an assembly line. Additionally, ASTRA detects an all-inclusive range of anomalies using statistical data analysis without any bias or human judgement. In the few months since its soft launch, ASTRA has already been integrated with the Milestone XProtect, Qognify Ocularis, Salient Systems, and Genetec Security Center VMS platforms.
ASTRA allows for hundreds of video streams to efficiently run on a single, modest server, significantly reducing the cost of implementation when compared to conventional video analytics software. The lightweight application also creates little to no load on the user's network.
For more information, please email info@ActiveIntelCorp.com.
EDITORIAL CONTACT
Ryan LaMarca
ryan.lamarca@activeintelcorp.com
+1 (941) 699-2307