Active Intelligence Makes Public Debut

at ISC East 2022
Making Prevention Possible with New Anomaly Detection Technology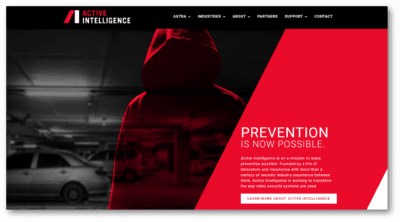 New York, NY (November 16, 2022) – Founded by a trio of highly experienced and well-known professionals with well over 100 years of combined experience in the physical security market, Active Intelligence is making its public debut at ISC East 2022 in booth 707.
The company was founded in 2019 with a very ambitious goal of transforming video surveillance systems from reactive tools to preventive, proactive solutions. With the launch of ASTRA, AI-driven video solutions can now be applied to mainstream video security applications.
Active Intelligence's founders include industry veteran Ken LaMarca, CEO at Active Intelligence and 33-year sales and marketing veteran in the physical security industry. Jordan Heilweil, Chief Revenue Officer at Active Intelligence, bringing 37 years of experience in advanced video surveillance solutions to the organization. And Charles "Chuck" Andrews, Chief Strategy Officer at Active Intelligence, renowned industry influencer, and founder of "Friends of Chuck" – a digital community of security professionals with over 100,000 members.
"Active Intelligence is taking a modern approach to video security with the development of a new software powered by AI and proprietary algorithms that detects and alerts on all anomalous events, without the restrictions of conventional rules-based systems," said LaMarca. "ASTRA is designed to help security professionals detect both known and unknown threats by identifying statistical anomalies in video feeds."
Active Intelligence's flagship product, ASTRA detects anomalous events by first learning what is normal in a specific camera's field of view, and then detects abnormalities to alert security operators that an anomaly has occurred. This covers a nearly infinite range of events like a person lying on the ground, physical violence, fire and smoke, pedestrians walking in front of moving vehicles, thefts, vandalism, traffic jams, wrong way driving, and much more – all without the need for rule configuration. In addition to physical security, ASTRA's extreme versatility is ideally suited for a wide range of commercial and industrial business intelligence applications.
Headquartered in Port Charlotte, Florida, Active Intelligence is rapidly expanding its core team of software engineers, sales representatives, and marketing professionals. With several highly successful beta site deployments to date, Active Intelligence is poised for tremendous growth and expansion in 2023.
For more information, please visit www.ActiveIntelligenceCorp.com or email info@ActiveIntelCorp.com .
About Active Intelligence
Active Intelligence is an international video security technology firm on a mission to drive the industry into the future with a flagship product that transforms video security systems from a forensic resource to a prevention tool. Started in 2019 by a trio of security industry leaders and visionaries, Active Intelligence builds upon a foundation of deep industry knowledge developed through a combined 100+ years of experience in corporate security, public safety, and homeland security.
Active Intelligence's debut security software offering, ASTRA, is designed to change the way video security is approached – shifting from forensic investigation to real- time prevention. Harnessing the power of artificial intelligence and machine learning, ASTRA is empowering operators through autonomous anomaly detection, allowing them to get ahead of developing situations and intervene before it's too late.
www.ActiveIntelligenceCorp.com
EDITORIAL CONTACT
Ryan LaMarca
ryan.lamarca@activeintelcorp.com
+1 (941) 699-2307